Cosmetic Dentistry in West Roxbury, MA
The rising demand for a beautiful smile is causing many people to visit cosmetic dentists in pursuit of their dream smiles. There are varied cosmetic dentist services like realignment of misaligned teeth, whitening discolored teeth, among others and are important for improving smile appearances. Such specialists deal with the procedures aimed at correction of enamel, dentition, dental arches, and so on.
In regards to cosmetic dentistry, for people who live in West Roxbury, MA, and its surroundings, Parkway Dental provides the necessary assistance. Our skilled personnel are equipped with modern equipment who work together to help bring out that dashing sparkle on your face so as to make it easier for you to smile. For more information about our services, or if you would like to make an appointment, call us now. A radiant smile starts here on your path.
Reasons to See a Cosmetic Dentist
Many people go to a cosmetic dentist in order to improve their smiles prior to major events such as proms or weddings. Cosmetic dental treatment, however, is necessary for those planning a special event. Cosmetic dentists can be helpful to those people whose teeth are crooked, discoloured, misaligned, chipped and cracked.
Cosmetic procedure has come in handy for those who had crooked teeth and thus embarrassed by their smiles. In addition, people age and may have teeth that yellow or stain at an early age. Though it is difficult to combat this discolouration at home, a cosmetic dentist has the knowledge to safely strip the stains and make the teeth look white again. Cosmetics dentist would also help solve these types of problems of uneven teeth, having a beautiful and uniform smile for the patient.
Benefits of Cosmetic Dentistry
One's teeth will help determine whether the person is confident or not when it comes to appearance. The described variables have significant impact on such matters as students performance in school or occupational environment, social life, emotional equilibrium, etc. Research shows that people's perceived appearance of having good smiles can have significant impact on their social and psychological well being leading even to depression if not properly managed by the family, friends or colleagues they associate with daily.
A cosmetic procedure is crucial in helping an individual see smiles of their own and live happily with themselves. Cosmetic dentistry is helpful as it does not only improve the appearance of one's smile but also aids in improving general dental health. These procedures also help in keeping mouth healthy by tackling problems such as decaying, etc., which make it hard for correct cleaning. Furthermore, certain cosmetic procedures make teeth stronger, thus preventing further weakening, whereas others such as bonding lead to reduced tooth sensitivity which promotes general oral health.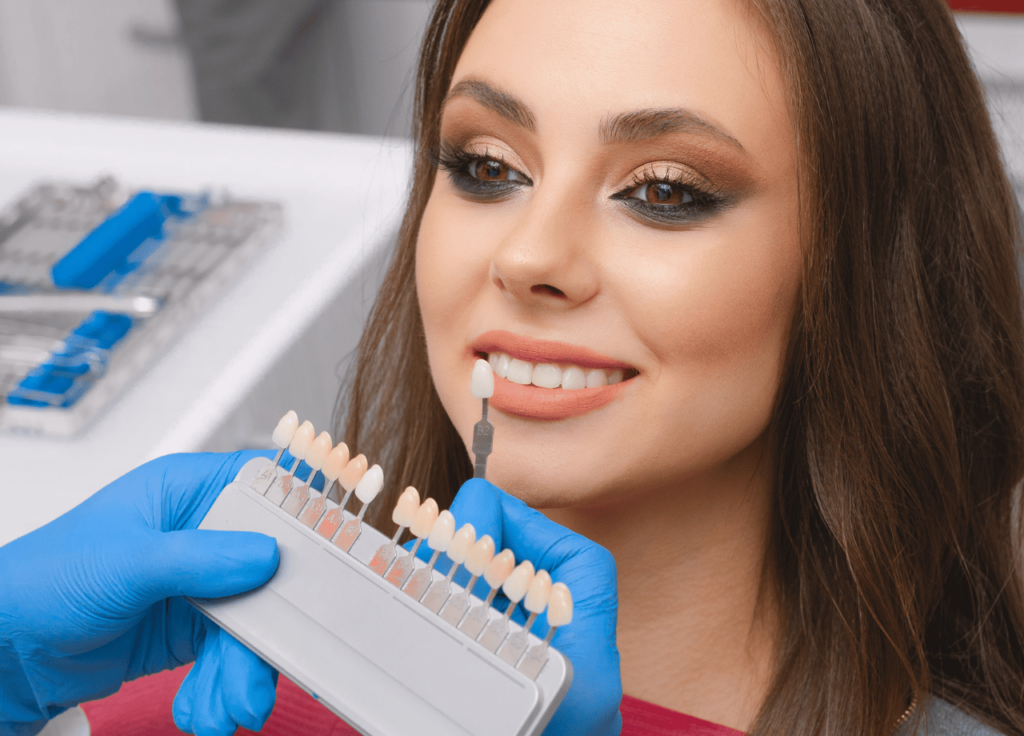 There are different ways depending on the patient's needs and objectives. Potential clients of cosmetic dentistry should consider an appropriate consultation, where they receive information on possible treatment methods. This will enable our team determine the best available treatment for every patient. Some standard cosmetic dental procedures include:
Bonding

: It involves the use of various kinds of resins to fix chips and cracks, fill spaces and sometimes to shape out certain teeth. The second alternative is bonding that can serve as an aesthetic option for the patient if they would like to avoid disclosure of repairs. After the resin sits where it needs to be, the specially designed blue light will harden the substance.

Crowns

: Crowns are usually placed on top of each tooth. Before a crown can be placed, the natural tooth needs to be filled. The post provides for the overhanging of the crown, when the filling is being cemented.

Enamel shaping

: Contouring, or enamel shaping, is one of the more straightforward procedures. Smoothening tools polish some of the surface enamel away in order to reduce irregularities and smooth chips. This is a fast technique without anaesthesia.

Gum reshaping

: Gum reshaping solves smile lines with excessive gums. This process entails removal of a minuscule part of gum tissue so most of the tooth becomes viewable. This procedure can be carried out on one tooth or more for patients.

Teeth whitening

: There are various strategies patients can use when it comes to teeth whitening. Whitening of teeth can be done at the dental office or home with customized trays. Professional teeth whitening employs peroxide-containing teeth whitening agents for eliminating tooth stains.

Veneers

: Veneers which are usually porcelain in composition are thin coverings designed to fit over teeth fronts and sides. Placement entails buffing of the teeth and then placing the veneers. Veneers enhance smiles as a protection for the surface of the tooth.
Proper oral hygiene is vital before embarking on the journey for a more beautiful smile. The most crucial thing is that they should have healthy teeth and gums because any problem might spoil this process and its consequences. A successful transformation starts with ensuring maximum oral health.
Moreover, people must do their homework on the various treatments and budget for them beforehand. One should consider budget, lifestyle, and cosmetic goals before the treatment.
It is equally important that questions be prepared for the consultation process. This consultation allows you to ask questions about the specific treatments they recommend for you, whether you are eligible or not, and the expected results, among others. Asking the right questions and taking notes during the consultation helps people fully realize if the treatment is in accordance with their requirements or dreams so that they can make an informed choice.
Finding the Right Cosmetic Dentist
The choice of a good cosmetic dentist is central to accomplishing this objective. Research is crucial in the first phase of locating the best cosmetic dentist. These considerations should include background and training and training/ongoing education, which are very important in any respect for cosmetic dentistry. Looking at testimonials of previous clients, as well as online reviews that exhibit a dentist's abilities, will also assist in understanding their level of skills.
Consultation marks a crucial point where patients connect with the dentist, find out about the ambiance of the dental office, and explore the cosmetic dentistry process even further. The questions should also be about your dentist's skills, such as what makes them best suited for you. Our expert staff answers all your questions and doubts, giving you confidence about taking the next step towards your more beautiful smile.
Frequently Asked Questions
We Are Ready To Serve Your Various Dental Problems
What Patients Say About Us