Dental implants allow patients to enjoy a more comfortable and functional bite following tooth loss. These implants serve as artificial roots, securely anchoring permanent tooth replacements. Dental implants present an excellent option to restore your smile, whether you are missing one or more teeth or require extraction.
For individuals seeking a tooth replacement option that closely mimics natural teeth, dental implants are a highly effective and long-term solution for addressing missing teeth. We proudly offer dental implants at Parkway Dental in West Roxbury and the surrounding area as a comprehensive and reliable service. To learn more about this transformative treatment and schedule an appointment, please don't hesitate to contact our team at (617) 325 4100. Your journey to a restored and confident smile begins with us.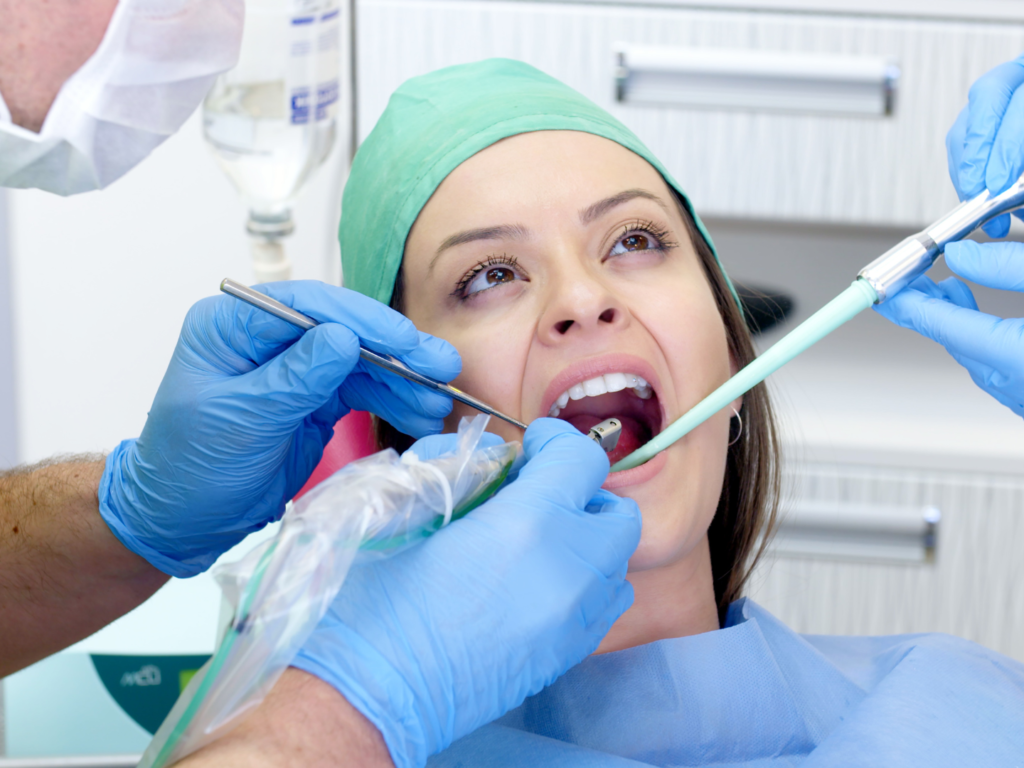 The Dental Implant Process
Dental implants serve as artificial tooth roots, essential support for new replacement teeth. The implant procedure involves making an incision in the patient's gum to expose the underlying bone where the implant will be positioned. Subsequently, the implant is carefully inserted, and the gum is sutured around the implant post. In some instances, a temporary denture may be used while awaiting the placement of permanent replacement teeth.
Following the surgical procedure, the bone surrounding the dental implant needs time to heal and integrate with the implant. This healing process can span several weeks to months, ensuring the implant anchors securely. Once the bone has sufficiently strengthened, a dentist can proceed with fitting the permanent replacement teeth.
In cases where patients have weakened jawbones, a bone graft procedure may be necessary to fortify the bone's strength and support the implant. After the bone has fully healed and integrated with the implant, an abutment is used to connect a crown or dentures to the dental implant securely. This comprehensive process, tailored to each patient's unique needs, ultimately results in a fully restored and functional smile.
How To Care for Dental Implants
Properly caring for dental implants closely resembles  the maintenance routine for natural teeth, especially when the replacement teeth are permanent. Consistent brushing, flossing, and rinsing with mouthwash are essential for maintaining optimal oral hygiene with implants. Regular checkups and professional teeth cleanings at the dentist's office also play a crucial role in ensuring the well-being of replacement teeth.
However, dental implants may require additional cleaning to preserve their optimal condition. In the case of removable, implant-supported dentures, it's advisable to remove them at night and soak them in a denture solution. Patients can also incorporate an oral irrigator to facilitate cleaning below and around the dental implants, providing comprehensive care to maintain the health and longevity of these essential dental prosthetics.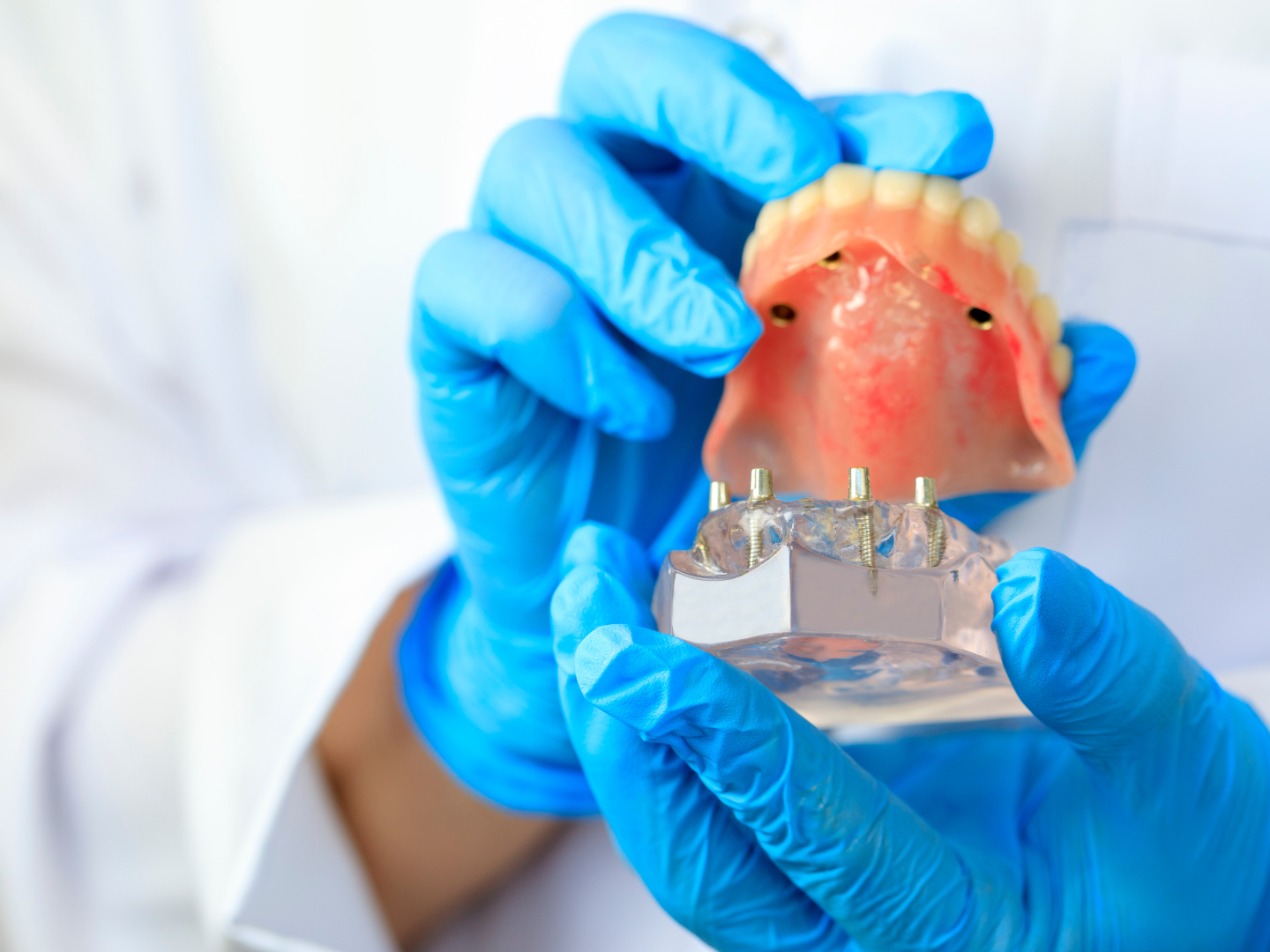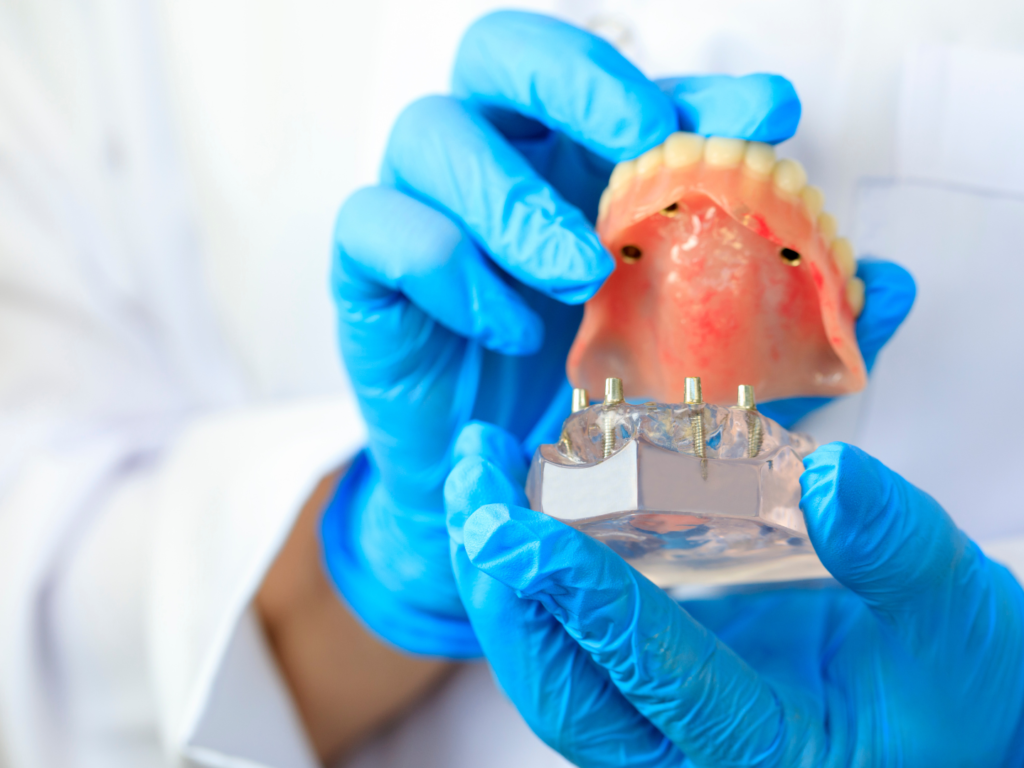 What To Expect After the Procedure
Following the dental implant procedure, it's common for patients to experience swelling and discomfort around the implantation site. Some individuals may also encounter minor bleeding and bruising of the skin and gums in the treated area. If necessary, these side effects can typically be managed using pain medication and antibiotics. Patients can anticipate these side effects to subside after a few days. In the initial healing phase, adhering to a soft-food diet is advisable to prevent any disruption to the healing bone. Most dental implant procedures employ dissolvable stitches, eliminating the need for a separate appointment to remove them. These stitches usually dissolve and fall out naturally within seven to 10 days. To facilitate a smooth healing process, patients need to follow the provided aftercare instructions and heed the advice provided by their dental professional.
Benefits of Dental Implants
Dental implants are an excellent choice for many patients with missing teeth, offering a range of compelling benefits that enhance their quality of life. Here are some key advantages of dental implants:
Comfortable:

 Dental implants serve as stable tooth roots, firmly anchored in place. This stability contributes to a high level of comfort, with many patients noting that implants feel remarkably similar to their natural teeth.

Functional:

 The secure foundation of dental implants enables them to function effectively for activities like eating, speaking, and oral hygiene. Their functionality closely mimics the natural teeth they replace, often with less disruption to daily life than less permanent options.

Permanent:

 Dental implants are among the most long-lasting tooth replacement solutions available. With proper care, they can endure a lifetime. Furthermore, fixed replacement teeth mounted on implants do not necessitate daily removal for cleaning, simplifying maintenance.

Natural-Looking:

 Implant-supported replacement teeth boast a natural appearance. The visible portion of the dental implant consists of a cosmetic crown crafted from a composite material meticulously colour-matched to the patient's tooth enamel. This seamless integration makes it challenging to discern between the replacement and natural teeth. Many patients appreciate the aesthetic appeal of dental implants, as others often cannot distinguish between them and their original teeth.
Our Dental Implant Services
At Parkway Dental, we offer a comprehensive range of dental implant services, including:
Consultation: During your initial consultation, our dental professionals will thoroughly evaluate to determine if dental implants are the right option for you. We will discuss the benefits, costs, and potential risks associated with the procedure and answer any questions or concerns you may have.
Implant Placement: Our skilled and experienced dental professionals will surgically place the implant into your jawbone with precision and care, ensuring optimal placement and stability.
Restoration: After the implant has been placed, we will attach a customized, natural-looking crown or bridge to the top of the implant, completing your new smile.
Follow-Up Care: Our team is committed to your ongoing oral health, and we will provide comprehensive follow-up care to ensure that your dental implant is healing properly and functioning as it should.
Reasons for dental implants:
Dental implants are an increasingly popular option for missing teeth or requiring tooth extraction. This dental procedure involves surgically placing an artificial tooth root into the jawbone to support a prosthetic tooth or bridge. Here are some of the most common reasons why individuals opt for dental implants:
Improved Appearance: Missing teeth can lead to an unsightly gap in your smile, making you feel self-conscious. Dental implants can restore your smile and give you the confidence to show off your teeth.
Better Function: Dental implants function just like natural teeth, allowing you to eat and speak easily. Unlike dentures or bridges, implants won't slip or move around in your mouth, allowing you to enjoy your favourite foods without restrictions.
Enhanced Oral Health: Missing teeth can lead to many oral health issues, such as gum disease and bone loss. Dental implants help preserve the health of your remaining teeth and prevent bone loss by stimulating the jawbone.
Long-lasting Results: Dental implants are designed to last a lifetime with proper care and maintenance. Unlike other tooth replacement options, which may need to be replaced every few years, implants are a permanent solution that can provide lasting results.
Improved Self-esteem: Missing teeth can affect your self-esteem and confidence. Dental implants can restore your smile and give you a renewed sense of self-confidence, making you feel more comfortable in social situations.
Overall, dental implants are an effective and reliable option for individuals looking to replace missing teeth or improve their oral health. If you're considering dental implants, consult a qualified dental professional to determine if this procedure is right for you.
All-on-4® dental implants are a full-arch teeth replacement option that involves placing four dental implants in the jawbone to anchor a fixed prosthesis or denture. The implants are positioned at precise angles and locations to maximize support and stability while requiring less bone density than traditional implants.
Who Should Get All-on-4®?
All-on-4® dental implants are suitable for patients with several missing teeth, failing teeth, or severely damaged teeth. The procedure is also ideal for those who wear uncomfortable or unstable dentures, or are looking for a more permanent solution. Patients should have sufficient bone density to support the dental implants, but those who don't can still benefit from bone grafting procedures.
Why Do People Prefer All-on-4®?
All-on-4® dental implants offer several benefits that make them an ideal choice for restoring your smile:
Faster Treatment Time
All-on-4® dental implants are a same-day procedure, meaning you can walk out of our West Roxbury dental office with a new, complete smile in just one day. Traditional dental implants require multiple appointments, bone grafting, and months of healing before attaching the final prosthesis.
More Comfortable and Stable
All-on-4® dental implants are anchored securely in the jawbone, providing stability and support for your new teeth. Unlike traditional dentures that require adhesives and can cause sore spots and gum irritation, you won't have to worry about slippage or discomfort.
More Natural-Looking
All-on-4® dental implants provide a natural-looking smile that complements your facial features and bone structure. The prosthesis is custom-made to match your natural teeth' colour, size, and shape, making it virtually indistinguishable from your natural teeth.
The success of the All-on-4® Procedure in Our West Roxbury Dental Office
At Parkway Dental in West Roxbury, MA, we have been offering All-on-4® dental implant procedures for many years, with great success. Our team of experienced and highly skilled dental professionals uses the latest techniques and equipment to ensure that every patient receives the highest care and attention. We have seen firsthand how All-on-4® has transformed the lives of our patients, restoring their confidence and improving their quality of life.
If you are interested in learning more about All-on-4® dental implants or want to schedule a consultation with one of our dental professionals, don't hesitate to contact us at Parkway Dental today.
Frequently Asked Questions
We Are Ready To Serve Your Various Dental Problems
What Patients Say About Us