A radiant and confident smile is something that every individual deserves. Among the most prevalent methods to enhance one's smile is through teeth whitening. Professional teeth whitening delivers enduring results by effectively eliminating stains and discolouration.
Teeth whitening procedures are designed to help you attain a more brilliant and aesthetically pleasing smile. Parkway Dental provides teeth whitening services in West Roxbury, MA, and the nearby region, allowing you to smile with self-assurance. For additional information about our services or to arrange an appointment, please don't hesitate to contact us at (617) 325 4100.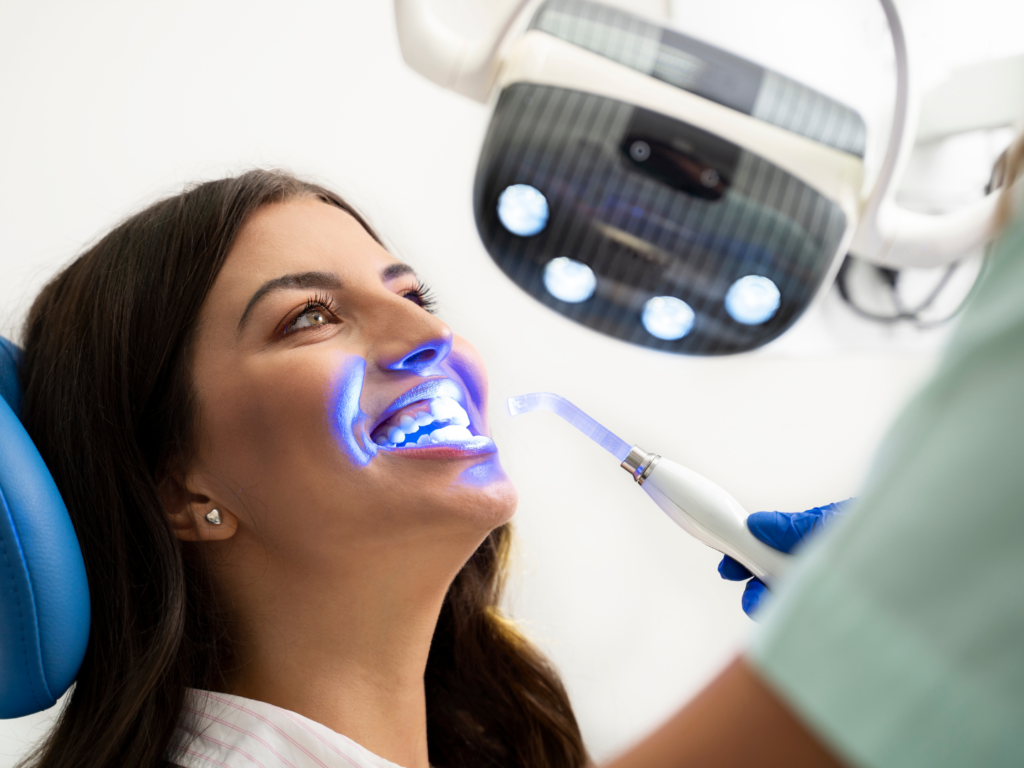 Benefits of Teeth Whitening at the Dentist's Office
Teeth whitening performed at a dental office is widely  regarded as the safest and most efficient approach to attaining whiter teeth. In-office teeth whitening is conducted meticulously monitored, ensuring a secure, controlled, and pain-free treatment experience.
Professional teeth whitening solutions feature more hydrogen peroxide than over-the-counter alternatives. Consequently, the whitening process is quicker and delivers superior results. The treatment administered by a dentist guarantees that sensitive gums are safeguarded from irritation during the whitening procedure. With consistent oral hygiene practices, the outcomes of professional teeth whitening should be long-lasting.
What to Expect at the Consultation
Before undergoing a teeth whitening procedure, individuals must schedule a consultation. This preliminary appointment is an essential opportunity for the patient to engage in a comprehensive discussion regarding their dental history, overall health, and objectives for teeth enhancement. Moreover, patients must communicate any ongoing dental issues, such as tooth or gum problems, which may necessitate treatment before embarking on teeth whitening.
During the consultation, our dental professionals will thoroughly examine the patient's teeth to assess their suitability for whitening treatments. It is noteworthy that pre-existing dental work, including crowns and veneers, does not respond to conventional whitening agents. If teeth whitening is deemed viable, our team will work collaboratively with the patient to ascertain the most effective whitening product or technique tailored to their unique needs and preferences. Your journey to a brighter, more radiant smile begins with this informative consultation, ensuring you achieve the best possible results.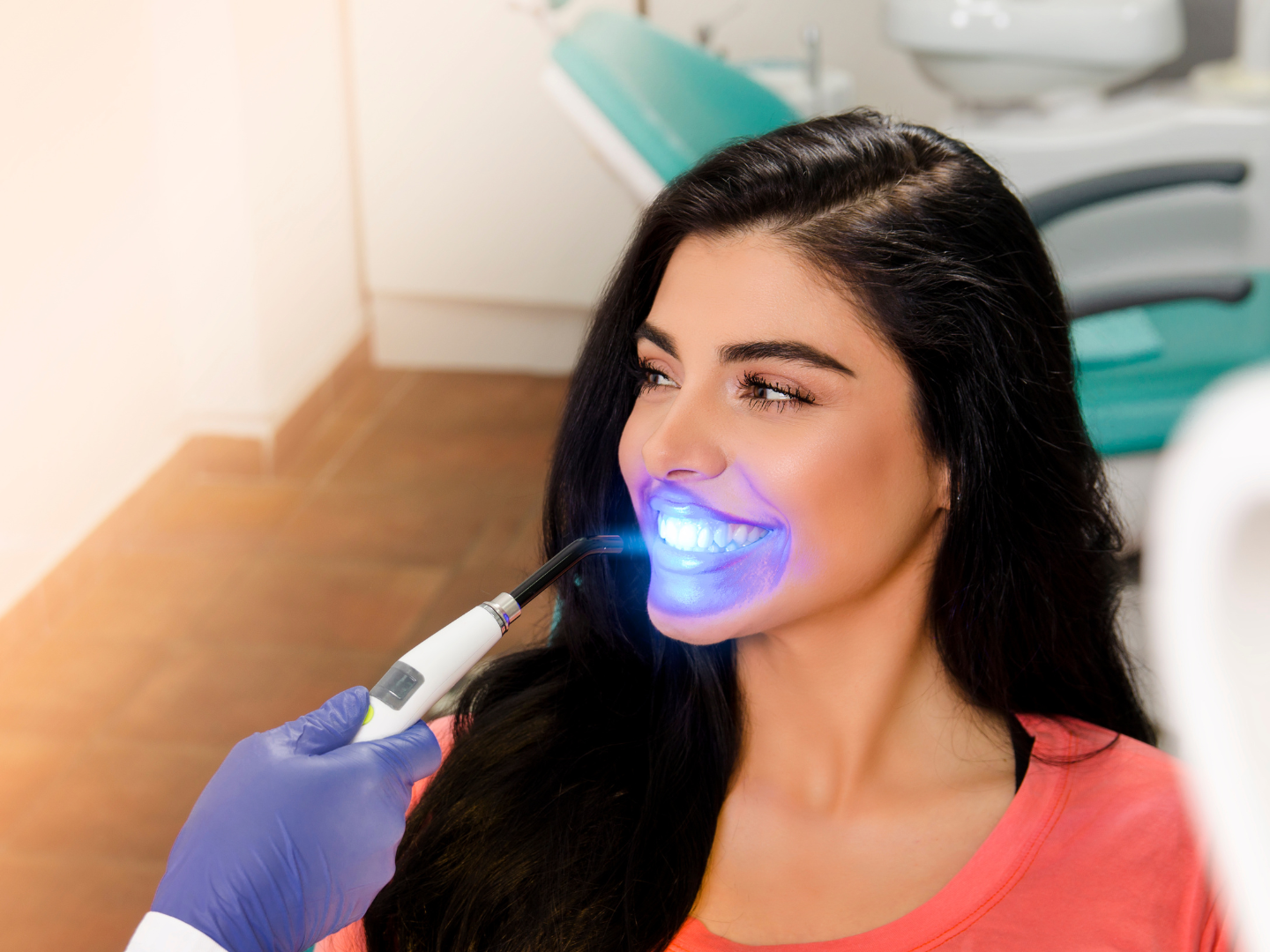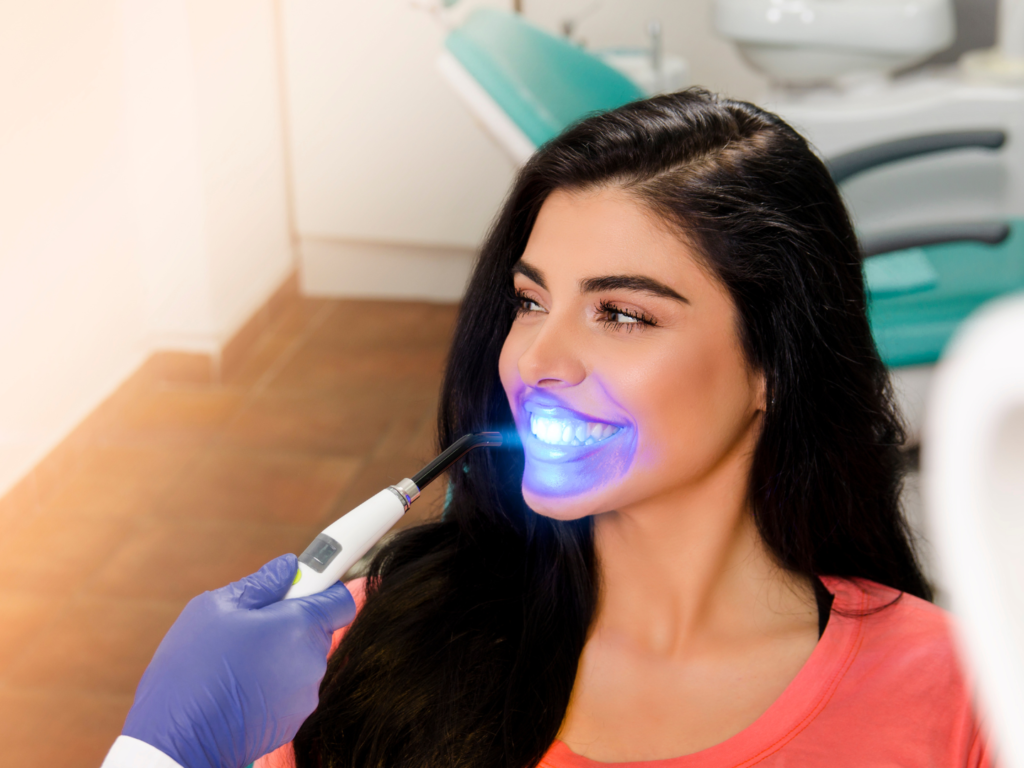 Teeth Whitening Treatment Length
In-office teeth whitening is the swiftest way to attain a brighter smile. Its remarkable speed lies in the potent concentration of bleaching solution employed, surpassing other alternatives. This professional teeth whitening approach necessitates a scheduled appointment to access its benefits fully. Through a series of concise 30 to 60-minute sessions, individuals can witness their teeth brightening by an impressive three to eight shades. Moreover, there are alternative tooth whitening treatments accessible that can deliver significant results within just a single two-hour session. For those intrigued by the prospect of teeth whitening, we encourage you to reach out to us for detailed information about the diverse treatment options at your disposal. We are here to guide you towards achieving the radiant smile you desire.
Who Should Get Teeth Whitening at the Dentist
Professional teeth whitening at the dentist's office is most beneficial for individuals  grappling with moderate to severe discolouration and staining. These stains can manifest due to various factors, including the natural ageing process, smoking habits, certain medications, and the consumption of specific foods and beverages. Notably, those with yellow or brown discolouration on their teeth are particularly well-suited candidates for this method of teeth enhancement. However, it is essential to mention that pregnant and lactating women should refrain from undergoing teeth whitening procedures.
It is crucial to exercise caution and discretion when considering teeth whitening. We do not recommend this treatment for individuals with gum disease, worn-down enamel, or dental decay. In such cases, addressing cavities and damage must take precedence before embarking on a teeth-whitening journey. Additionally, individuals with teeth that exhibit a grey or purple hue may not achieve the desired results through bleaching methods.
Our dedicated team is readily available for consultations for those interested in teeth whitening. Through personalized discussions, we can determine the most suitable and practical options tailored to your unique needs and circumstances, ensuring you achieve the brilliant smile you aspire to.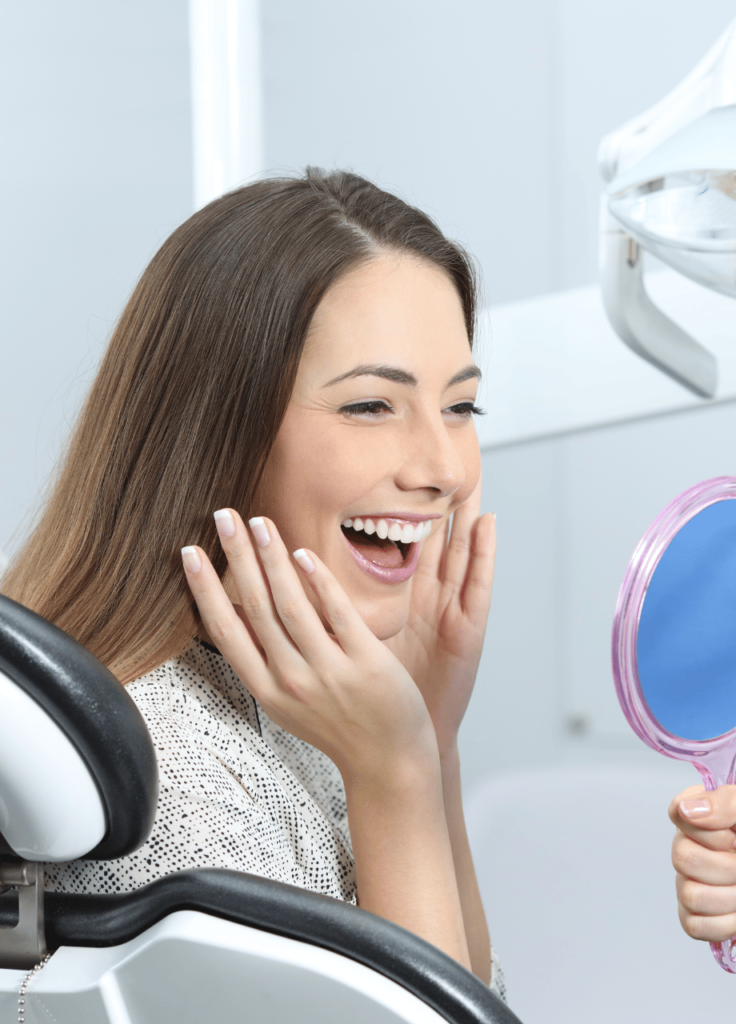 While professional teeth whitening yields impressive results, it's important to note that these effects are not permanent. However, individuals can take proactive steps to prolong the longevity of their newfound radiance through proper care and maintenance. Here are some essential guidelines to help maintain those dazzling results:
Avoid Staining Substances:

 Steer clear of habits like smoking and minimize consumption of foods and beverages known to stain teeth, such as coffee, tea, or red wine.

Oral Hygiene:

 Maintain a robust oral hygiene routine by brushing your teeth at least twice daily, flossing daily, and using mouthwash to reduce plaque buildup.

Whitening Toothpaste:

 Consider using a dentist-recommended whitening toothpaste, like Colgate Total SF Fresh + Whitening™ Toothpaste, hello® Naturally Whitening Toothpaste, or Colgate® Optic White® Toothpaste, to help preserve your teeth's brightness.

Regular Dental Check-Ups:

 Don't skip routine dental appointments for professional teeth cleaning and check-ups. This ensures that potential issues are addressed promptly and that your teeth remain healthy.

Discuss Touch-Up Treatments:

 Consult with our dental team about the possibility of touch-up treatments at six-month intervals to maintain your bright smile. These touch-ups can help extend the longevity of your teeth whitening results.
By adhering to these guidelines and incorporating them into your daily oral care routine, you can enjoy the benefits of professional teeth whitening for a more extended period, relishing your radiant smile.
Benefits of Professional Teeth Whitening at Parkway Dental
There are many benefits to choosing professional teeth whitening at Parkway Dental, including the following:
Safe and Effective
Our teeth whitening services, as trained dental professionals perform, are safe and effective. We use high-quality products and techniques to ensure teeth whitening safely and effectively.
Long-Lasting Results
Professional teeth whitening at Parkway Dental can provide long-lasting results. With proper care, your brighter, whiter smile can last several months or even years.
Customized Treatment
We understand that each patient has unique needs and goals for their smile. That's why we offer customized teeth whitening treatments to meet your needs.
Improved Confidence
A brighter, whiter smile can improve your confidence and self-esteem. You'll be proud to show off your smile and feel more confident in social and professional situations.
Are Teeth Whitening Right for You?
Teeth whitening is a safe and effective cosmetic dental procedure for most patients. However, it may only be suitable for some. During your consultation with our dental team, we'll evaluate your teeth and gums to determine if teeth whitening is right for you. We'll also discuss your goals and expectations for the procedure to ensure we provide you with the best possible outcome.
How to Maintain Your Bright, White Smile
To maintain your bright, white smile after teeth whitening, it's important to practice good oral hygiene. Brush your teeth twice daily, floss daily, and visit our dental clinic for regular checkups and cleanings. Avoid consuming foods and drinks that can stain your teeth, such as coffee, tea, red wine, and tobacco products.
Schedule Your Teeth Whitening Appointment at Parkway Dental Today
If you're ready to brighten your smile, schedule your teeth whitening appointment today at Parkway Dental in West Roxbury, MA. Our dental team will evaluate your teeth and recommend the best teeth whitening option for your needs.During your appointment, we'll examine your teeth to determine the extent of discolouration and any other underlying dental issues that may affect your treatment. Based on our findings, we'll recommend either in-office or take-home teeth whitening treatment.
Our in-office teeth whitening treatment uses a high-concentration bleaching gel that is applied directly to your teeth. The gel is activated with a special light, which helps to accelerate the whitening process. This treatment usually takes about an hour and can leave your teeth several shades whiter.Alternatively, our take-home teeth whitening kit allows you to whiten your teeth in the comfort of your own home. We'll provide you with custom-fitted trays and a bleaching gel, which you'll wear for a specified amount of time each day. This treatment typically takes several weeks and can also leave your teeth several shades whiter.
No matter which treatment option you choose, our dental team will provide you with detailed instructions on how to care for your teeth after treatment to maintain your results.Don't let stained or discoloured teeth keep you from smiling and feeling confident. Schedule your teeth whitening appointment at Parkway Dental today and take the first step towards a brighter, more beautiful smile.
Frequently Asked Questions
We Are Ready To Serve Your Various Dental Problems
What Patients Say About Us